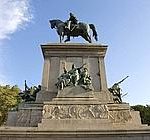 The one of 17 March in Rome will be a long "white red and green night."
To celebrate 150 years of National Unity the capital is planning a hundred concerts, theatrical performances, street entertainment, readings, lighting, projections, bands, events, fireworks and lectio magistralis. Even the antenna of Monte Mario will be covered with a flag of coloured lights. The festival celebration, a sort of patriotic flavour White Night, involves the whole of Italy: celebrations in many cities, from Bologna to Turin. "The tricolour night", in fact, celebrates March 17, 1861, the day the House and Senate of the Kingdom of Sardinia approved the Basic Law of the unitary state in which King Vittorio Emanuele II took for himself the title of King of Italy and founded a single state from seven different ones.
Rome will paint the colours of Italy with flags and banners that will adorn the streets of down town where the events will focus(all free). They will start from Termini railway station on March 16 to 21 with the arrival of the first Tricolore train, soon after, in Piazza dei Cinquecento the Monumental Flag will be raised. From Piazza del Quirinale (21.15) Rai "150" will start broadcasting live and then popular songs in Piazza dei Cinquecento. The music of orchestras, bands, brass bands and trios, however, will animate the Quirinal and Capitoline Hill, the Galleria dei Sordi in Trastevere.
The protagonists will also be performances, readings and theatre with I Promessi Sposi of Manzoni Dante and dance lessons in history. But also lighting of buildings, architectural projections, street theatre, fireworks at midnight "shot" from the Parco del Celio. Shows and entertainment also on Via Veneto, Via Nazionale, Largo Argentina along Corso Vittorio Emanuele II, Piazza Navona, in Piazza Sonnino and Arenula. Center of the festival will also be the museums and the archaeological parks and some national and local ones will be open free of charge.
The day of 17 will be dedicated to the heroes of the Risorgimento with the presentation of the new Museum of the Roman Republic and the memory of Garibaldi Park and the heroes of the Gianicolo, the new wall covered with Roman text of the Constitution, the belvedere, the square and the lighthouse.
"It's nice to say we got it out of the mud. With the commitment of many we were able to say that all Italians should remember this day of celebration – said the Minister of Defense Ignazio La Russa – I thank Alemanno and Rome more than any other city in Italy which has committed itself in the celebrations of 'Unit'. "We can offer a nice feast that draws on strong values. We need more national identity – has admitted the mayor of Rome, Gianni Alemanno – If it were not for the national holiday it would have been a holiday made just for an elite few. The tricolour night will be the spark that will make us proud of our flag. "
Source: http://www.corriere.it/unita-italia-150/11_marzo_09/roma-notte-bianca-rosso-e-verde-de-leo_27d66f88-4a6a-11e0-8210-720c80ef41f5.shtml