Planning your next trip to Italy? Then you must for sure go and visit Venice, the City of Water. Whilst you are there, wandering around the small street, riding on a gondola or sipping a coffee in Saint Mark's Square, you should also take some time and try to learn to cook some of the delicious food which the city offers.
You can now do this at a very affordable cost at [bl id="2308″]CookInVenice.com[/bl].  The two lovely owners Arianna and Monica, with their charm and friendliness and in their home environment, will teach you to cook original Venetian recipes. All the dishes are easy to replicate back home and the include starters, main courses and desserts. You can book a one day cooking class or a three day culinary course, you can even take part in a [bl id="2308″]Food & Ghost tour of Venice[/bl].
For further information you can visit their website CookinVenice.com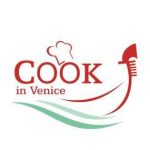 where you will be able to check out their cooking classes menus and also you will be able to enjoy a nice video of the culinary courses.