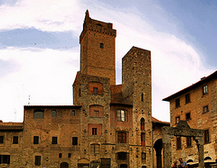 Tuscany is a very popular option when it comes to a summer holiday. Rather than doing the typical 'tourist' holiday why not choose to experience Tuscany like the locals and enjoy a rustic Tuscan summer holiday. Italians are known for their zest and passion for life, their love of good food and their laid back attitude. Doesn't a laid back holiday full of good food and relaxing days sound ideal for a summer holiday? Here is how to make the most of your trip to Tuscany and enjoy the Tuscan traditions-
Location
There are lots of beautiful places to stay in the region of Tuscany. From Pisa to Florence you will be able to create a rustic experience anywhere in Tuscany. The best way to really learn how the Tuscans live is to choose to stay in the country side close to a small village where you can travel to to buy groceries and dine with the locals
Dining
Italian food is famous around the world and Tuscany has its own well known tradition dishes. While in Tuscany try- Liver Crossini, Florentine steak, Panzanella, Pappa el pomodoro and traditional Italian wine. Visit family run restaurants and cafes and eat from street stalls. Try cooking from your Tuscan villa too using traditional Tuscan ingredients. You can also take classes while staying in Tuscany, try pasta and pizza making using traditional Tuscan methods.
Accommodation
For a truly rustic experience choose to rent a Tuscan Villa while visiting Tuscany. Villas are traditional homes in Italy and boast large open spaces, terracotta tiles and white walls. Tuscan Villas are designed to be cool and fresh during the hot summer months and are usually set in large grounds often with olive trees. For a touch or luxury choose a Tuscan villa complete with a swimming pool.
Activities
In Tuscany a big part of the local's lives is religion, particularly Christianity. You can find regular religious festivals in nearly every village and town in Tuscany, particularly at Easter and Christmas where you can see locals running through the streets with religious statues.
You can also find local markets some of which are a weekly event and some only happen yearly. From local foods to antiques it is worth checking out some of the markets that the locals attend.
Other events in Tuscany that locals attend include barrel rolling, bareback horse racing and medieval jousting plus lots more!