"The Italian Riviera" are three words that say it all. What's not to like? It sounds romantic, but families cannot have a bad time there in regard to the location and climate. The food will be better than fabulous; Italy does not understand the word "unappetizing." They favor fish and mussels in Liguria.
Hotels are major factors in the Italian Riviera because they are a base for the week or landing places for every night or two. It may be easier, with children, to stay in one place and drive or boat to other places on day trips. Staying near a beach is a good idea, but it will probably be rocky. There are few sandy beaches in Liguria.
The summer months are very crowded throughout the Riviera, so book early, like now. The scenery is exactly what the travelogues show, only better in real life. Villages look like they were built to resemble places from fairy tales. Hiking and walking are two prominent activities in this area, possibly because so many things are on cliffs.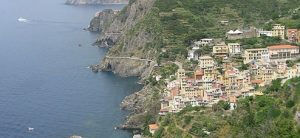 Cinque Terre, "The Five Lands," are the five villages attached by a walking trail high up on the cliffs over the sea. It has been reviewed over and over in all manner of travel commentary because of its natural beauty and well-preserved buildings. It looks like a medieval or Renaissance era locale with grapevines and olive groves on the hillsides. It is also the most crowded. Many other towns along the coast are equally good vacation spots, this area has just gotten more attention comparatively.
Hotel costs are not cheap, but some are budget-like in price. There are ads for hotels that start at $66 for two people in a room, but that is not a family rate. Some offered suites for $118/night, but it didn't say if that was in euros or dollars, although it had dollar signs and not euros signs in the ads. This kind of information will be essential since euros will mean many more dollars.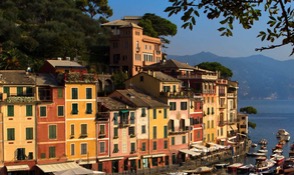 There is a sandy beach at Paraggi, between Santa Margherita and Portofino, and there are kid-friendly hotels in Camogli a little farther west. There is a carousel in the town square and places to sit and chat or stroll around.
Mountain biking is in many places. Riders go from uphill in the Maritime Alps down to the sea on dry, single-track paths. Molini di Triora is one mountain bike ride scheduler.