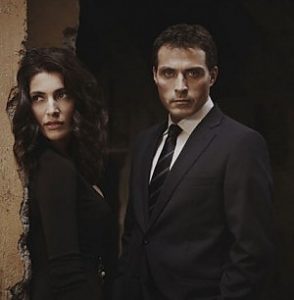 LONDON – It 's big time for Italian thrillers on TV and in book-stores in England. The BBC is broadcasting with a very big success a new serial thriller set and filmed entirely in Rome. It is titled "Zen", but the Oriental philosophy has nothing to do with it: it is the name of Aurelio Zen, a detective at the centre of the story, handsome, elegant and complicated as should be a modern hero, dealing with cases to be solved, a difficult love with a married woman and moral issues often raised by his job as a policeman.
The television series is obviously in English and all the male actors are British, starting with the protagonist, played by Rufus Sewell. The actresses are Italian though, like Caterina Murino, ex-Bond girl in one of the last film of 007, beautiful and talented, ans she has the role of the secretary of the police chief, who is married but also attracted by her relationship with Zen. Why are all actresses Italian? Because a review, with no hint of irony, in The Observer of London says "there is something particular in the form or forms of Italian women that an English actress would struggle to reproduce." And the compliments are wasted in particular for Murino who the London paper defines as with "forms so Italian" ( although she is one of those Italian actresses who works permanently abroad) that all of her colleagues disappear from the screen when she enters the scene. Even the writer of the series, Simon Burke, is British but lives in Perugia with his wife, the director Anya Camilleri.
On the wings of interest in the serial thriller set in Italy, or perhaps a mere coincidence, there is also a great attention in the library during this time to the "made in Italy" thrillers. For a while now several authors of Italian based thrillers are already translated into British: one for all is Andrea Camilleri, but in the coming months also there will be the English versions of the novels of Gianrico Carofiglio, Giancarlo de Cataldo, Massimo Carlotto, to whom the Observer devoted a lengthy article today. The BBC recently aired a program on Italian thrillers helping to generate interest in Italian authors of this kind in the land of the "mother" of all police novels: Sherlock Holmes.