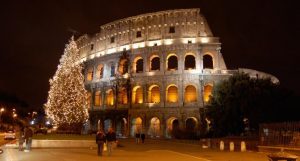 It is the cry of alarm: the tragic collapse in Pompeii and the cuts to culture. Still, there are encouraging figures: more than 12.2% of visitors in museums and more than 6.4% takings in only the first half of 2010. The desire for art, therefore, and to get to know the most important heritage of the world. Right in Rome the latest news and opportunities are endless.
Since 2006, the opening of the entire ground floor of Palazzo Barberini was expected, with new exhibition halls for the painting of the XII-XV. To these 15 rooms have been added to the main floor with the works up to the seventeenth century, and the core work of the Caravaggeschi (tel. 06.48.24.184. Hours: 8:30 to 19:30, admission € 5). From a  few weeks you can climb to the third level of the Colosseum, 33 meters in height, closed since the Seventies, the only gallery that has remained intact, where you can see part of the original plaster . Exceptionally, you can also enter in the Palazzo Farnese, site of Embassy of France,  to relive the history of five centuries of dwelling in 150 paintings, drawings, sculptures, tapestries and ceramics exhibition in the Palazzo Farnese – From the Renaissance to the Embassy of collections France (from 17 December to 27 April 2011, www.mostrapalazzofarnese.it by appointment, tel. 06.32.810). Then there are the stages of the contemporary MAXXI, the National Museum of XXI Century Arts, designed by Zaha Hadid, who is a boom in visits and appreciation. After the Stirling Prize (awarded by the Royal Institute of British Architects last October 2 ) has just received the award for best building of the year by the jury of the World Architecture Festival in Barcelona. And the MACRO Museo Arte Contemporanea Roma with a collection from the sixties to today, which opened on December 5 in the wing designed by the French glass and basalt Decq Odile. In all, 19,500 square meters of rooms, terraces, art café and bookshop (new entrance in Via Nizza, corner of Via Cagliari, tel. 06.67.10.70.400, the 4 / 12, from 9 to 19).
Other openings from December 15 at the Roman Forum: The House of the Vestal Virgins, the residence of the virgin priestesses, the only site with original statues of the imperial era. While the Capitoline Museums is the stage from December 8 of the Portrait of a Musician Leonardo da Vinci (never released in five hundred years from the Biblioteca Ambrosiana in Milan); at the Vittoriano you line up for the exhibition on Van Gogh (up to February 6, tel. 06.67.80.664) and the Galleria Borghese there is one dedicated to Lucas Cranach (until February 13, www.mondomostre.it).
The carnet of events could continue, but at Christmas time we must make way for local celebrations and dinners. Without giving up, however, the discovery of a secret and extraordinary Rome as that which is seen by booking a tour night at the Teatro di Marcello (every Saturday at 19, 20 and 21, people and places Association, tel. 06.85.30.17.55 ) or underground city (cell.347.3811874). Or admiring the Triumph of Galatea by Raphael (1512) Villa Farnesina, one of the noblest and most harmonious examples of Italian Renaissance, home to the Accademia dei Lincei representation on the Tiber. ……
Source: http://viaggi.corriere.it/viaggi/weekend/2010/roma_dicembre/roma_dicembre1.shtml