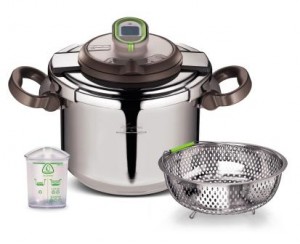 The new pressure cooker Acticook Lagostina makes it even easier and faster to cook, because it is equipped with 3 exclusive eco-technology systems that save energy and time. With the cooking accelerator Eco Energy System, a valve which right from the start releases the 85% air, cooking will be fast, with Eco Dose you can accurately determine the amount of water to use for each recipe. With Eco Timer you will have a timer that alerts you when it's time to reduce the heat, because the pot has been under pressure, and also indicates with a second sound when the cooking is finished.
Even those who have never used a pressure cooker before will find it easy to open and close it, thanks to an innovative system for opening and closing (just move the latch on the lid) and may experience the dual mode of cooking delicate foods like vegetables, or higher pressure to frozen foods, meat and fish.
Included in delivery is a handy pot rack, useful for steam cooking, a method that enhances the taste of foods, and a new cookbook with 50 recipes, from appetizers to desserts, that can be prepared in just 30 minutes.
To support the launch of Lagostina Acticook a special offer from March to June with a dedicated point of sale.
It will be available by March 2011, in the version 4.5 liters and 6 liters, the latter with folding handle to save space in the kitchen and dishwasher.
Source: http://www.shoppingo.it/blog/2011/01/28/acticook-la-nuova-pentola-pressione-lagostina/