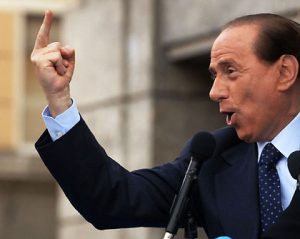 Macchiavelli ( the 15th century Italian philosopher and writer) used to say: Politics have no relation to morals!
This is definetely valid for Mr Berlusconi. No matter what he does or say, people keep voting for him. Maybe for opportunism, maybe for blind faith or God knows why, but no matter what they throw at him, he keeps coming through.
It is very interesting also to see how people from countries other than Italy perceive him and his political views and action.
This is a post by The Hindu, the Indian newspaper. Did not know they were interested in the state of Italian politics!
Berlusconi's win is Italy's loss
The Italian Prime Minister, Silvio Berlusconi, who began his current term two years ago with a majority of 100, has had to face a second confidence vote test in less than three months. He managed to scrape through: while the Senate margin was comfortable, he survived by the skin of his teeth, three votes, in the 630-member Chamber of Deputies. The proceedings in the lower house were extremely rancorous; members almost came to blows. After the vote, there were violent street clashes between protesters and police. Earlier, the Speaker of the lower house, Gianfranco Fini, a former political ally and now a deadly foe, accused the Prime Minister and his right-wing People of Freedom (PdL) party of buying MPs; another MP mentioned inducements of € 500,000. Some of the street fighting was severe. More than 100 people were injured and substantial damage caused to public and private property. There were also demonstrations across the country; in Palermo, students blocked the central station and the airport, and in Milan demonstrators broke into the stock exchange building.
That Mr. Berlusconi has hit the lowest point of his political career is in little doubt. The country's condition, however, is far more serious than the current political discourse appears to acknowledge. To start with, the suppression of problems is only to be expected when the Prime Minister himself owns most of the private TV channels as well as several newspapers. That makes for a wide gulf between mainstream coverage and the lived experience of ordinary Italians, who are unique among Europeans in being, on average, poorer than they were a decade ago. Secondly, photographic evidence seems to support opposition politicians' allegations that police and other security officers infiltrated the demonstrations and provoked some of the violence. This revives images of the 1970s, when the security forces did similar things to sway public opinion towards repressive legislation. Thirdly, Mr. Berlusconi's many failures are starting to catch up with him. His own wealth has not cured political corruption; he has tried to pass legislation giving himself immunity from criminal prosecution over shady business dealings; his attempts to restructure the economy have failed; and even a people known for their tolerance of celebrity sex scandals are losing patience with the politician-tycoon's escapades. The major problem for Italy is the absence of any other political vision. The sooner the centre-left parties can put the 1990s corruption scandals behind them and offer a decisive manifesto, the better it will be for all Italy.
Source: The Hindu, http://www.thehindu.com/opinion/editorial/article963547.ece
In the above article in very few words the present situation of Italy has been clearly indicated. So, how come even in Asia they see what the problem is, and Italians do not see it in their own country? It is true then, hear no evil, see no evil.