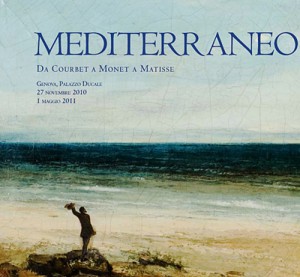 The Biennale of the Mediterranean has given the city of Genoa a great range of cultural events that have attracted thousands of visitors.
Under this initiative, which aspires to become a regular event over the years, is the art exhibition "Mediterranean. From Courbet to Monet to Matisse " at the Palazzo Ducale, a unique opportunity to understand the importance of the artistic imagination of the Mediterranean coast, the villages on the cliffs, the stormy waves of the mare nostrum.
The reference to ancient Rome and its glory has never left the Mediterranean, wrapping it in an almost mythological atmosphere.
The exhibition runs through the coastal evolution of the representation of those who visited the area and who painted the charming and rough stretches from 700 to 900, from classicism to modernity through five generations of painters.
The tour begins with the views of Joseph Vernet, Hubert Robert and Courbet and the painters of the nineteenth-century school of Marseilles, and then give way to the great Impressionist painters: Cézanne, Monet, Renoir, Boudin to Van Gogh
It then goes to the post-impressionists with Signac, Van Rijselbergh and Cross among others, and the landscapes of Nice paintings by Edward Munch. The exhibition ends with the Fauves exhibition of paintings by Matisse, Derain, Braque and those of modern Vallotton, Bonnard and Soutine.
The exhibition continues until 1 May 2011 remaining open daily . There is an entrance fee with reductions for students, seniors over 65, booked groups, TCI card holders, students and children; tickets can be purchased in advance.
If you want to combine a cultural artistic experience we recommend you buy a combined ticket that combines "Mediterranean" and the exhibition "Wonders of Africa", an exhibition of African art from Italian collections, with a small surcharge. The reductions applied to the price are the same as reserved for "Mediterranean", as well as opening hours. By purchasing a ticket you can also choose a guided tour for "Africa".
From December 31, 2010, you can also buy a combined ticket also through Internet and the call centres. Tickets can be collected at the box office of "Mediterranean".
Guided tours are conducted with the aid of headphones and microphone apparatus and are performed by staff in groups of up to 25 people. Reservations are recommended, because without this the guided tours will be held only if there is staff available. For individual visitors audio guides are available.
Do not miss the chance to look through the eye of art and history, immersing yourself in these paintings exhibited in so short a distance from the sea that inspired them!
For more information visit the travel guide Genoa in Liguria, About Liguria.com.
OPENING HOURS
From Monday to Friday: 9:00 to 7:00 p.m.
Saturday and Sunday: 9:00 to 20:00
The ticket office closes 45 minutes before the close of the exhibition.