Italian is the language of art, culture, cuisine and fashion. One of the best places to learn this beautiful tongue is Bologna – a large, medieval city located in northern Italy with a big student community, rich nightlife and deep cultural traditions.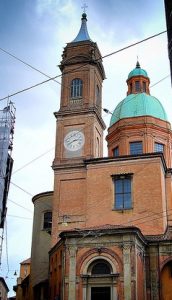 Why Choose Bologna?
The are pleny of offers for practical language courses for people who want to be fluent and confident in Italian. Studying in Bologna has several prominent advantages for students of all levels and ages. First, Bologna is a big city: it is full of attractions, yet not swarmed with English speaking tourists like Rome, for example. This is an excellent opportunity for a student to practice their communicative skills in pure Italian and use it as a way of life without being distracted by hearing a mixture of other languages.
Second, Bologna is a great cultural and traditional centre with the oldest university in Europe and its surrounding: museums, cathedrals, theatres, festivals and other cultural events. Young people and dynamic lifestyle along with medieval-style landscape is an unusual combination, which allows our students to get exposed to history, make friends or just go out for lunch – all that in Italian.
The last but not least is the culinary specialties for which Bologna is so famous. Authentic Italian restaurants, cooking classes and wine tasting given by experts are a gourmet's paradise and a great language practice all in one.
Plenty to do in Bologna.
Those who prefer a calmer routine will certainly appreciate the exhibitions, art performances, galleries and the old town. University museums such as Carducci Room, la Specola (the Astronomical Observatory), the Museum of Natural History or the famous Luigi Cattaneo Anatomical Wax Museum are great opportunities to get exposed to cultural traditions in the local language.
Life in Bologna is diverse, exciting and full of social encounters. By joining the Language Class tutoring program for Italian a student gets a chance to practice their spoken language and build confidence by facing real-life situations every day. Classes are led by native speaking teachers in a friendly and professional environment, while the goal is to overcome speaking anxiety and motivate students for further learning.