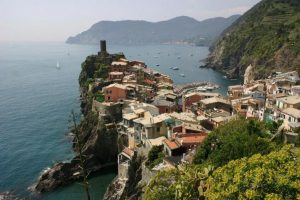 If you're in Italy in July and having coffee at La Cite (a coffee shop with plush couches, books, art exhibitions and free wi-fi) in Borgo San Frediano, you'd also be probably wondering where the locals go to escape the heat. The answer will be: to the beaches where they are joined by throngs of tourists who also want to enjoy the magnificent seascapes and naturally placid swimming coves created by Italy's unique coastline. In July, the beaches that line the Italian coast are at their most crowded, but whether you're headed for a 5 star resort or a cozy bed and breakfast, it won't be hard to find a lounge chair by the sea just waiting for you to rest your weary backside.
From this vantage point, you will be able to observe the beach-side behavior of native Italians who participate in this annual exodus to the beach in summer. If you find yourself on a lounge chair in the Italian Riviera, for example, you will find families flocking the resort town for hiking and congregating by the beach over plates of fritto misto, and cones of gelato. Plus, at the Italian Riviera, the expert juxtaposition of village and beach is evident in Cinque Terre; 5 small villages perched on cliffs overlooking the unique coastline.
The striking and lush beauty of the stretches of ivory white sand, vivid aquamarine waters, thick vegetation overflowing on the cliffs, seem to spill over to the lush Italian beauties forming garrulous groups by the water in the trendiest and most daring of sexy bikinis and monokinis. When young Italians find themselves at the beach in summer they indulge in one of their favorite past times: flirting. And one inevitable flirting tool aside from suggestive words would be the parade of sexy swimsuits that will surely include even the skin-baring microkini.
You will find that Italians, young and old, are comfortable in their skins and are not shy at all about wearing the skimpiest of swimsuits. They could be nubile 17-year-old lasses or more mature yet voluptuous sirens in their 50's, even the tiniest of microbikinis won't faze them. The physical ideals popular in the United States which have women obsessing over food and weight is simply not an issue in Italy. So, she has a small muffin top. That won't prevent her from slipping into a sexy swimsuit. At the beach, in Italy, it's all about attitude.