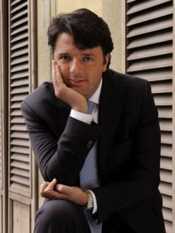 A poll by Il Sole 24 Ore crowned the first citizen of Florence. Among the Governors of the Regions in second place is Enrico Rossi
High, very very high rating by the citizens for Tuscan administrators Matteo Renzi and Enrico Rossi: to decreet this is the IPR Marketing poll of Il Sole 24 Ore, which puts the mayor of Florence in the first place overall among the first people of Italy with 67 % of the vote. Second place went instead to the Governor of Tuscany Enrico Rossi, which in the "ranking" of the Regions, was preceded by a colleague from Veneto, Luca Zaia.
Renzi – interview by Il Sole 24 Ore – commented on the result: "The consensus is not needed for "gigioneggiare – messing about", but to carry on even if the changes create some grumbling." And about the many channels of social networks used by the mayor of Florence in the field of communication, Renzi believes that they are important if you know how to use them: "Facebook and Twitter change the language" explains the first citizen – "you can not put on social networks the old press summary policies of the central committee. That said, every Tuesday I go to schools, meeting the Florentines to confront the residents on things to do."
And if Matteo Renzi was the most popular in Italy among the mayors, in a good result was obtained by the President of the Province of Arezzo Roberto Vasai in the provincial authorities, who won the sixth place, Bezzina Simon, President the province of Siena stood at 15th place. In 24th place we find Leonardo Marras, director of the province of Grosseto and Andrea Barden, president of the province of Florence has slipped to 33 in the rankings of Sole 24 Ore, along with Osvaldo Angeli (Massa Carrara). Below is the province of Prato (51 th place), Pistoia (63 th place), Lucca (80th place), Livorno (82 th place). Lagging behind in Tuscany is the province of Pisa, governed by Andrea Pieroni, located in 80th place.
Source: http://www.intoscana.it/intoscana2/opencms/intoscana/sito-intoscana/Contenuti_intoscana/Canali/News/visualizza_asset.html?id=1080559&pagename=704617