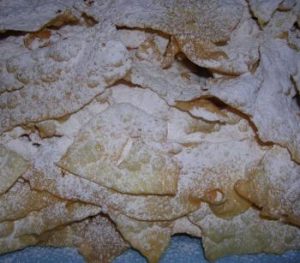 Carnival has started it is now time to make Galani (in other parts of Italy they are also known as Chiacchere or Crostoli), a type of sweet pastry thin strips who are then fried in hot oil. This is a very traditional Italian treat for this time of year.  We suggest that if you decide to do this recipe (which is very easy but also requires speed) you do it with a friend or a family member, so whilst one person rolls the pastry the other one fries and it gives you plenty of time to have a good chat!
Recipes thanks to [bl id="2308″]CookInVenice.com[/bl]
Ingredients for 3 bowls of Galani: : 400 gr. plain flour, 60 gr. sugar, 50 gr. butter (must be left at room temperature for at least 20 minutes), 2 eggs, 1 glass of white dry wine, 1 pinch of salt.
Preparation: Take the flour and the salt and sieve them directly on the working area, making a well in the centre. Add the sugar, then the butter reduced in small bits. Rub the butter into the sugar and flour. Now add the 2 eggs and at first beat them into the four and butter, then slowly start pushing the flour into the eggs, mixing everything well.Now start adding a bit of wine at the time , making sure each time it is well absorbed by the pastry. Keep working the pastry with your hands for at least 10 minutes, banging it on the working area as you would with the bread dough. This helps the pastry rising. Carry on working until the pastry is smooth and elastic (as shown on the picture). Leave to rest covered with a kitchen towel for at least 1 hour. Once the hour has passed, start hotting up your oil. In the meantime take a small piece of the dough (the size of a walnut) and roll ou the pastry very very thinly, less then 1mm, just like a sheet of paper. Using a pizza cutter, cut out some rectangular shapes ( 1 cm x 4 cm circa or smaller) and make a little cut inside each of them (this will stop the strips from exploding in the hot oil).  As soon as the oil is boiling (check this by placing the handle of a wood spoon in it – if bubbles appear around it the oil is ready) take 2 or 3 strips (not more otherwise they will burn) and put them in the oil. Cook on each side for about 5-10 seconds (they will bubble up) and remove (they must be a nice pink colour, not brown). Place on some kitchen paper and let to rest. Keep rolling and frying until the dough is finished. When all Galani are completed place into a nice tray and cover with icing sugar.
Source: http://www.cookinvenice.com/venetian-recipes/desserts/galani-alias-chiacchere-sweet-fried-thin-pastry-strips/