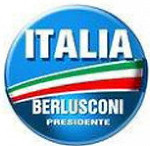 ROME – Berlusconi should have decided: the name of the new political creature that will replace the now disintegrated PDL will be simply "Italia". To reveal the choice is the agency Dire1 that publishes on its website also the logo which should replace the current one. A blue circle with a tricolour band at the centre which is not very different from the old one, but with the word "Italia" in block letters on the top side and "President Berlusconi" at the bottom.
As the revelation of Dire1 underlines, the strategists of the premier are planning to take advantage with the choice of the new name of the promotional effect indirectly linked to the fact that that just started is one of celebrations for the Unification of Italy. No 'Populars' then, as it was aired in the first instance before the outcry of the former Christian Democrats, but Dire1 still stresses, "an even shorter name and out of party symbols of which the Cavaliere Berlusconi is said to be tired from some time ". Among the names rejected there seems to be also "Long live Italy" because of the unattractive acronym of VLI (which in Italian can be read as vili meaning vile)
According what Dire 1 says, the pollsters also promote the idea of transforming the PDL of Berlusconi in "Italia". The new name, which according to sources of the party, would have been registered by Berlusconi on 15 December 2010 (in the aftermath of the vote of confidence in Parliament), "evokes many feelings in a good number of citizens. " Renato Mannheimer says.
Source: http://www.repubblica.it/politica/2011/01/10/news/nuovo_nome_pdl-11061979/