There's something about the sense of adventure that comes with taking a road trip that makes a holiday. You and your loved ones, all sitting nice and close (well, sometimes too close) exploring a new place together as beautiful scenes fly by your windows.
Road trips conjure up images of playing car games, singing along to your favourite songs, and stopping wherever you want – just because you can. If you love a good road trip, here are six that are guaranteed to get your motor racing.
Route 66
This famous stretch of road in the US, popularised by the song of the same name, is a must for anyone wanting to have a proper American road trip experience. It passes through eight U.S. states, from Illinois in the North East, to California in the South West. Fun fact: Route 66 is also known as the Will Rogers Highway, although road trip enthusiasts prefer to call it the Main Street of America.
Indian Ocean Drive
An upgrade to this road has made the trip from Perth to Geraldton in Western Australia even more enjoyable. Along the way, be sure to stop at the ghost town at Greenough, check out Geraldton's shipwreck gallery and, of course, admire the fantastic views of the Indian Ocean.
The Amalfi Coast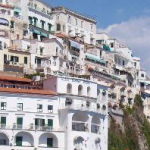 The picturesque Amalfi Coast of Italy is a must if you want to see Southern Europe from behind the steering wheel. You'll travel along winding roads, seeing villages perched upon cliffsides as well as the beautiful blue water of the Sorrento Peninsula, which extends from the Bay of Naples. Be warned: the roads and narrow and challenging. But, if you can manage it, this is one of the world's most scenic roadtrips and one you will never forget.
Cape Cod
Cape Cod in Massachusetts is sort of the antithesis of Route 66. It's a quiet, beachside stretch, peppered with small seaside towns and historic buildings dating back to the 18th century. There are plenty of great and easy roads to discover and explore as you travel along the Atlantic Ocean.
The Silk Road
Running from Beijing, China, to Tashkent, Uzbekistan, the Silk Road was the focus of the Central Asian merchant economy for centuries. Travelling along the road will afford you the opportunity to encounter a variety of urban and rural cultures, and you will no doubt encounter plenty of interesting people and places along the way. Some sections are rather isolated, so if you're not sure if you want to tackle this road trip alone, you can always join one of the many bus tours.
Dublin to Galway
While driving on the narrow and poorly maintained streets of Ireland always used to be considered a bit of a 'no no' for tourists to the Emerald Realm, luckily a few road upgrades have meant that the country is now an excellent place to take your next road trip. Try travelling from Dublin to Galway, in order to see some of the country's most impressive castles and estates.