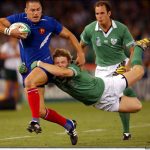 We're reaching one month of New Zealand rugby world cup and some matches on this weekend will be very interesting, in particular for Italy, in fact Sunday will be a clash against Ireland which will be crucial for Italy, to win will mean a step in the history, to lose will mean a trip back home.
All in 80 minutes, Italy must believe in itself 100% because they have the possibilities to beat the Irish but they must play their best. Their scrum is very powerful but they're expert a hard fight due to the previous victory against Australia.
These are the starting XV
15 Andrea MASI, 14 Tommaso BENVENUTI, 13 Gonzalo CANALE, 12 Gonzalo GARCIA, 11 Mirco BERGAMASCO, 10 Luciano ORQUERA, 9 Fabio SEMENZATO, 8 Sergio PARISSE, 7 Mauro BERGAMASCO, 6 Alessandro ZANNI, 5 Cornelius VAN ZYL, 4 Quintin GELDENHUYS, 3 Martin CASTROGIOVANNI, 2 Leonardo GHIRALDINI, 1 Salvatore PERUGINI
So COME ON ITALY!!!!