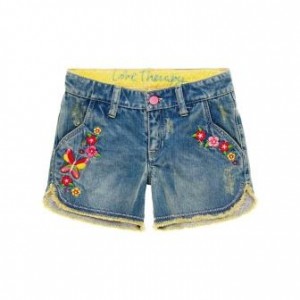 The Spring /Summer 2011 Love Therapy collection, created by Elio Fiorucci, offers fun and creative clothing, in which colour and cheerfulness are predominant, to communicate the joy of living which is also the key to the success of the brand.
There are several lines for women, such as Sunday Best, inspired by the 50s pop graphics with bright colours, turquoise, orange, green, and floral prints. The Heritage line, however, recalls to the icons of the brand, with elves, hearts, pop motives, unmistakable in fluorescent colours that stand out on T-shirts, tank tops, leggings, sweatshirts, shorts and miniskirts, jeans and bomber jackets in nylon. There's also a reminder of the Saint Tropez of the 50's, with lines and dots line Teen Sailor, who are on vests, tops, T-shirt.
Even the younger ones have their own collection, Girls Love Therapy, in which the cheerful l Heritage line has graphics, with hearts, pins and coloured dwarfs, the sweaters are embellished with rhinestones, leggings are with polka dot; some articles are inspired by the style "sailor" with stripes, lace, ribbons and red pin up sweetly alluring, while the line Urban Jungle has bright colours, large colourful flowers and the dresses from the city and sea animals such as lions, giraffes and koalas, and varnish from the Small bags fluorescent colours stand out with hearts, frogs and ducks.