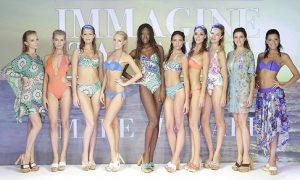 In July 2015 The Mare D'amare salon showcased many beachwear items for the summer 2016 collection to the world at the Fortezza da Basso in Florence (Firenze). There was an explosion of events, fashion shows, workshops and a wonderfully rich selection of beachwear collections from around 250 well known brands from around the world, this was a great opportunity to enjoy and learn about the upcoming trends (especially with Italian fashion) for the summer 2016 season.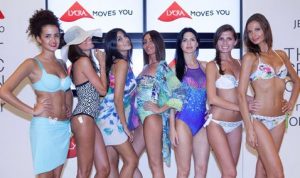 In the spotlight leading the trends for the summer 2016 beachwear collection was defined by Anglo-Indian guru David Shah for Maredimoda salon partners in Cannes (3-5 novembre 2015) that can be summarized into four broad themes.
The first, Jungle Fever, is a euphoric drums sound inspired by the fervor of Africa, filled with acid colors, mixed design and patterns expertly mixed. This tangle, this eclectic mixture expresses the bold energy of "dark continent"; ethnic influences, tribal, animals, hip-hop and punk, all linked by colour and dynamism.
Rave Couture instead contained Red carpet elegance with a subtle modern twist, illusionistic fantasies, inspired by pop art. Optical illusions trick the eye and generate movement, distortion and depth. Often in Black and White, give an immediate sense of sophisticated glamour and opulence, but at the same time with simple lines.
The third theme Memphis sports, is a tribute to the speed and performance, swimwear leisure sports mosaic effect colours and geometric designs.
The fourth and last theme, Brutal Glam, tells of futuristic dresses designed for a strong willed and graceful woman with a touch of class. Is the celebration of dystopia; a world of cosmic deities, that stand proud.
With the weather in Italy for this summer turning out to be very good with lots of sunshine (unlike 2014) we expect to see strong sales in Italian beachwear in the home market.