Milan Fashion week never fails to excite and to please. The sumptuous looks from one of the world's fashion capitals are already huge trends this season. If you are not already following them, it's high time you join the band wagon and strut like the Bella Donna that you are. 
Tailoring
Tailoring and a touch of androgyny are huge trends this season, as evidenced by the volume of suits and jackets that designers churned out for their collections. Of course, a woman's shape is still emphasized by using slimmer silhouettes and feminine colors. Look no further than Giorgio Armani's fall runway collection with gorgeously tailored suits in gray, pink and orange, flower pocket squares and gray trousers.
Layering
Long coats, capes and jackets are also huge this season, which is only appropriate for the fall and winter. Long, slightly over-sized coats made of camel, cashmere and various other materials are a big hit this season, as are romantic capes. Leather jackets and cozy knits already have a huge following. And of course fur, whether as whole coats or just trimming, is widely popular and is all about volume and color – in other words, making a statement.
Luxury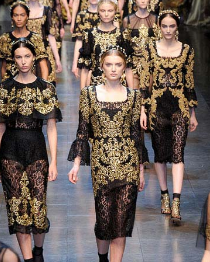 Opulence is another recurring theme in several fall collections during Milan Fashion week. Leading the pack is Dolce & Gabbana with their decadent and luxurious collection of black formal dresses made of velvet lace and chiffon and made even more opulent with gold beading, sequins or embroidery. Gold statement accessories were also a huge part of several collections, from brooches and headpieces, to costume necklaces and earrings, as are gold accented shoes and handbags. Gold has been a huge color trend all year, but this season though it is more of an accent to add a touch of luxury to an outfit.
Military
Several fall collections looked to the military for inspiration. Buttoned up coats, clean and sharp lines, and epaulettes all contribute to the military inspired look as evidenced by Ferragamo's fall collection. High boots and long strapped bags worn cross body, messenger style, complete the military inspired look.
Goth, Medieval and Christian Influences
The underlying theme this fall is all about the dark and mysterious, the romantic and the dramatic; all of which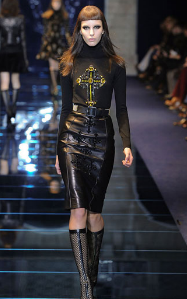 combined and influenced designers to create startlingly dark and luxurious pieces as evidenced by the wide use of black lace and velvet. At Versace, the dark and dramatic theme was infused with subtle gothic touches. Case in point: corseted black leather with jeweled cross detailing. Designer Donatella Versace also churned out Medieval-inspired looks such as the sexy metallic formal dress that resembled chain mail and the mini dress with chain mail detailing.
Christian influences were also present in some of the collections which include the aforementioned bejeweled crucifix detailing from Versace, as well as the prints of pink-cheeked cherubs from Dolce & Gabbana.
Color
Not everything is dark and mysterious during Milan Fashion Week though. Bright and colorful prints were also spotted as were light-colored materials. Dolce & Gabanna's dark and opulent collection were interspersed with light-colored dresses with bright floral patterns that wouldn't look out of place in a Spring collection. Emilio Pucci and Jil Sander both worked with nude and neutral colors to create subtle, sexy and feminine outfits.