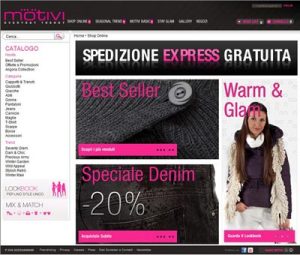 Motivi, group brand Miroglio, active in fast fashion, has just opened an online store.
As of December, in fact, clients of this well known fashion label will have the opportunity to purchase items in the collection fall / winter 2010-11 through the web, in the shop section of the online site www.motivi.com.
To manage the new e-commerce channel a dedicated team has been created, supported externally by Nuvo Consulting, which specializes in the development of strategies for digital channels. In addition, the company has created spaces for the construction of photo shoots to ensure a quick update of the site in the key of photographic content and information. As discussed with the company from Alba in a press release, the launch of the  e-commerce project has found synergies in all business activities in recent months as part of social networks, with particular reference to Facebook, where today the fan page Motivi has over 35 thousand entries. From January 2011 there are plans for new developments such as the application for the Apple iPhone that will allow users to shop via mobile.
With a consolidated turnover of € 930 million and about 11 thousand employees, the group Miroglio, established in 1947, has over 2 thousand clothing stores worldwide. In the field of women's fashion, the company produces and distributes clothing collections of 12 brands and is present in two market segments: fast fashion brands with Motivi, aOltre and Fiorella Rubino, prêt-à-porter brands Elena Miro, Louise Viola , To You by Krizia Fashion and Blutime, Caractère, Notes, Diana Welsh, Claudia Gil and Sym.
Source: http://www.fashionunited.it/News/Leads/Motivi_%28gruppo_Miroglio%29_apre_uno_store_online_201012145853/