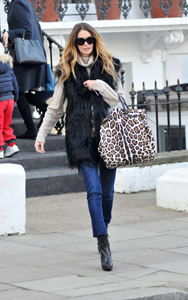 Even fashion has its epidemic which soon spreads to women around the world, including celebrities. In this case the victims were "sick" by the softer influence of winter: the fur craze.
The catwalks (Chanel, Balmain, Burberry to name a few) have launched the fashion and the people gave a strong (it's appropriate to say that) thumbs-up. We are talking about the trend of "fur", that after years of minimalism, has made a huge comeback on the scene in a blaze of vaporous creations. Not that it was completely gone of course, in some contexts (the triangle: Courmayeur, Cortina, St. Moritz) to meet a fur wrapped specimen is as easy as spotting someone wearing skis. But those are microcosms, everyday streets are another matter, and it is here that trends have their baptism of fire. There and on the red carpet, that never like in these last few months have recorded a show of leather and fur that rivals Cruella De Ville. The collection is vast: it starts from the classic rabbit ( renamed lapin because it is more chic) via mink and beaver to the latest proposals as partridge and goat. In short, there is a bit 'of everything as long as luxurious and flashy, but sometimes at the expense of heat.
Gone are the days when the most famous supermodel, Naomi Campbell, head of PETA spokesperson claimed "better naked than with fur." Now celebrities and models are beautiful displays of furry boleros and maxi coats and the same Black Venus does not disdain to be wrapped in long chinchilla fur. The divas choose items rather thick, fluffy, bulky, and if the fur is there then it is right we see it, despite the crisis.
But which fur to choose? We see the hottest Italian fashion in circulation from which to take inspiration and perhaps to retrofit our old grandmother's fur, or with skill, to seize one of our mother's and turn it into a hit.
Small, discreet, but ultra-chic: a waist-coat is one of the most easy to wear, even for the neophytes. It is not cluttered and it can be chosen of the same shades of the sweater you are wearing to take advantage of the sober tone on tone effect. Even the top Elle MacPherson, goes for this little ally against the British cold days. The really big versions (partridge, Mongolia) are perfect models in short, while goat and mink fur smooth as well in the long run.
You run the risk of hitting the Michelin Man effect with the fur bomber, a mixed blessing for each survivor of the 80's. Short, swollen and punk mood is more an accessory than an outerwear. It's fine for the chosen few, such as Sienna Miller, who still chose it black according to the rest of the total black look, but it is simply irresistible in its blatant futility against the biting cold.