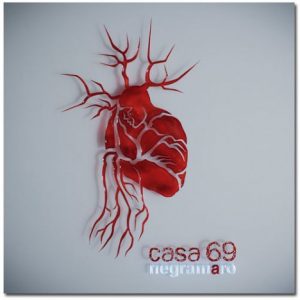 The voice of Giuliano Sangiorgi is an outfit difficult to wear.
Perhaps it is for this reason that Negramaro have looked at the "Sound designer" David Bottrill (who "dresses" and also produces the Muse and Placebo).
So the group left again "the little village of Italy" for over the ocean travel, this time in the metropolis of Canada, where they joined the boutique Metalwork's Studios in Toronto and came up with a "wardrobe" art!
The audio tracks on their official website released sporadically during the processing foretold of good vibrations.
The sound of this new album Casa69 is meticulously looked after, electronics also have further refined the artistic abilities of the group.
Sangiorgi's voice seems to have found unusual colours, a more comprehensive range, far from the clichés that threatened to go tight on him!
Not only that, this time the voice seems to be available to the musical arrangements and not the other way.
Spedicato, Carlà, Tasco, Mariano and De rocco were able to give vent to their instruments, often sacrificed for the good (commercial?) of the band.
The album with 16 tracks + 2 bonus tracks is very generous of played minutes and the melodic collection is really much larger than usual and each song seems to have benefited from the "grim background" that pervades the album.
If you rule out a challenge to the last uvula with the talented Elisa in the song "Enough"and the classic single "Sing-hiozzo", the rest of the album is really a nice surprise.
Now there is the curiosity to see Negramaro struggling with the new sounds during their live performance.
Source : http://www.a2magazine.net/musica/209-negramaro-casa69.html