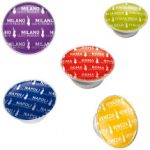 The online coffee shop Toro Cafè is expanding its online product catalogue with the offering of new aluminium Bialetti coffee capsules.
They are original capsule compatible with all the Mokespresso Bialetti machines line and you can buy them in individual boxes of 15 capsules.
They are available in five flavours, which include the name of Italian cities: strong taste Rome, intense flavour Naples, Venice characterized by a mixture of sweet aromas and Milan, queen of mellow taste. Closes the range of proposals, the decaffeinated blend Italy.
Inside the Toro coffee shop you can buy 5 cases – a total of 75 capsules – at a discounted price.
You can get more info and buy the Bialetti capsules on the official website of Toro Cafe.
https://www.torocaffe.com/eng/?___from_store=it