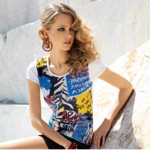 Summer is coming and Oroblù is ready for this years season with the second body wear fashion collection which are very suggestive and sparkling, among the various pieces in the new Alexia collection, which are a enjoying wonderful success in Italy.
It is a set composed of three different leading items, with great spirit and good value at the same time, the front with a fabric patterned with micro sequins overprinted with the word "urban". The back and edges of the top are in plain fabric in cotton.
Below is a new tank top without straps, in Black and white. The colours available are matching Black / White and multicolour. The sizes available are: S, M, L, XL. The recommended retail price in Italy is Euro 35.00 or Euro 45.00 for the band and the big shorts and T-shirts.