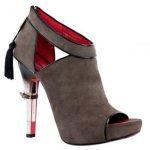 It is called Essence, the first fragrance created by shoe designer Cesare Paciotti and its world première during the fashion week in Paris. A début that left everyone breathless not so much the perfume itself, but for the brilliant idea of ​​associating it with a shoe.
A double weapon of seduction which sees the little bottle of perfume incorporated into the vertiginous high heel suede sandal created for the autumn-winter 2011/2012. The Essence fragrance is secured by an elegant stiletto strap that allows simple and sensual movement to pick up the bottle, vaporizing a bit of its content on then put it back into the heel.
After the lipstick heel of Alberto Guardiani, here's another brilliant idea to combine into a single object of desire two other symbols undeniable femininity.
I really like the gimmick,as well as the design of the shoe. And you?
Source: http://chicchoice.wordpress.com/2011/03/16/paciotti-essence-la-scarpa-con-il-profumo-nel-tacco/