Launched over a year ago by John Scoma an e-commerce store called Realvanity.com dedicated to "Made in Italy" luxury brands like Dolce & Gabbana, Guccia, Ermanno scervino, Balenciaga, etc. In recent years there has been much talk about the deepening crisis in the fashion & textile sector and the difficulties of large brands in trying to cope in this downturn. In a recent interview John Scoma core business is trying to change the way the luxury sector distributes their product range from classic brick & mortar stores & outlets to an online model.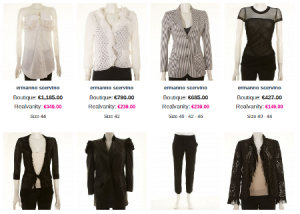 The "Made in Italy" is perhaps a status symbol just like owning a sports car or expensive jewellery. The main aim of Realvanity is online commerce in establishing a direct sales channel were customers are able to enjoy a substantial reduction in prices for the end user, offering the top Italian brands for less than 80% of the prices found in many boutiques in Italy including major brands like Dolce & Gabbana, Lanvin and Roberto Cavalli.
For orders over EURO 135 ( £110 ) the shipping cost for the whole of Europe is only EURO 4 (£3.30).