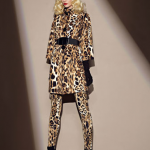 The bright animal print on this gorgeous over coat from Anna Rachele is most definitely a "must-have" for the Winter.  We think that animal prints never go out of fashion and also for Anna Rachel remains the best seller ever. Glamorous, practical, elegant and a formal coat an obligatory item to have in your wardrobe.
Matched with a pair of simple Black pants always makes the difference, if then you add a belt to the waist you have really done it. Ideal for any type of engagement from a night on the town dancing, an evening at the cinema or a even walk after dinner to really show of that chic look! To see the all collection check out the Anna Rachele official site: www.annarachele.it
The Anna Rachele brand from Italy was established in 1983, manufacturers and distributes woman's knitwear and prêt-à-porter clothing.