The Maillol Museum in Paris has decided to dedicate an exhibit to the history of Venetian Murano glass. On show will be over two hundred art pieces, an extensive roundup of what the Murano glass has been and is, from the Renaissance until the present day, through painstaking and refined talent of the dynasties of the glass masters who have passed down the art of transforming the sand with fire and with the air into the wonderful pieces that are on show at this exhibit.
The rare Murano glass objects on show will be listed chronologically, from 14th century until the early 18th century, when the Murano glass production drastically declined its production. On show will be many Murano pieces like chandeliers, jugs, glasses, centerpieces. All this is to testify the different techniques used from different eras, until the new period of expansion in the middle of 19th century when the island of Murano in Venice made a substantial comeback thanks to the discovery of ancient Roman glass, the revival of ancient techniques in the production of glass murrine.
This wonderful exhibition in Paris exposes for the first time in French history, the wonderful designs of Murano glass. The curator of this one of a kind exhibition is Rosa Barovier Mentasti, among the most credited researchers of glassmaking, herself from a very old family of master Murano glassmakers. To assist in curating this show is Cristina Tonini, an expert in the conservation of rare glass collections and of the Bagatti Valsecchi Museum in Milan.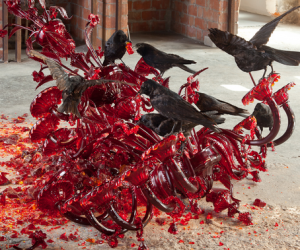 Many of the rare Murano show pieces on display come from many locations including: the Victoria and Albert Museum in London, the Murano glass museum in Venice Italy and finally from private collectors who agreed to the loan their rare and historic pieces to the exhibit. The many visitors who will visit to the Maillol Museum in Paris, will be able to see close-up, the ancient art of master Murano glass-making, and the expertise that still exist to this day.
Looking for an hotel in Venice? Hotelsclick.com do some great deals