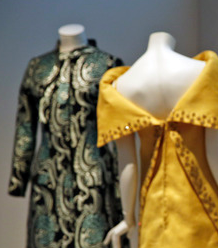 When in comes to fashion, there is no doubt that the Italians are unsurpassed in terms of glamour. This mantra dominates this month on the issue of Vogue Uk, speaking of Italian fashion with a view to the long-awaited opening of one of the largest ever shows devoted to Italian fashion. The venue is at the V&A-Victoria and Albert museum in the heart of London and is entitled "The glamour of italian fashion 1945-2014 '. The exhibition, sponsored by Bulgari, will open its doors to the public on April 5 and will remain open until 27 July.
On show will be a vast range of Italian clothing and accessories, archival images and movies, the influential Italian fashion's contribution since the end of World War II. About half of the "Made in Italy" collection of clothing and items on show belong to the V&A museum, while the remaining half came from loans and donations, explained Sonnet Stanfill, curator of the exhibition and of the Department of contemporary fashion and 20th century at the Museum, speaking of 120 pieces on display, collected by museums like the Met-Metropolitan museum of art in New York and the Costume Gallery in Florence, and fashion houses like Marni, Dolce & Gabbana and Prada to name but a few.
Until you get to the next generation of designers such as Giambattista Valli, Fausto Puglisi or duo Maria Grazia Chiuri and Piccioli, Pierpaolo latter architect of the revival of Valentino. The first items on show are creations of Simonetta, Sorelle Fontana, Emilio Schuberth and Pucci.
There is also a section dedicated to Hollywood on the Tiber, by Irene Galitzine, the clothes sculpture by Roberto Capucci and the memorable dress Empire created by Gattinoni for Audrey Hepburn in the film "War and peace".
The exhibition also places emphasis on the quality of the well known fashion leaders and sartorial excellence of Italian couturier, with fine examples of craftsmanship such as the Mila Schön gown worn by Marella Agnelli to memorable Black and white ball organized by Truman Capote in New York.

Then there is the ready to wear section, starting from the 70's, thanks to fashion designers like Giorgio Armani, Versace, Moschino, Krizia and Gianfranco Ferré. The "Made in Italy" braqnd has become a global business phenomenon especially with the evolution of fanous fashion houses in international luxury brands such as Prada and Gucci.