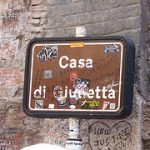 Lovestone is the original initiative of the Teatro Stabile di Verona, which can leave an indelible mark of love on the terrace overlooking the Casa di Giulietta (Juliet's house). The marble tiles of its floor may in fact be indelibly engraved with a special laser machine. They can be purchased on site or on the website www.lovestone.it, each of them with a numbered certificate and with details (name and number on the dial).
For Valentine, Lovestone offers an unmissable promotion: lovers who visit the Terrace between 12 and Feb. 14 from 10 to 19 will be able to buy their stone of love for the symbolic price of € 49,00. Buyers will receive a copy immediately, while the incision will be done later.
The promotion coincides with the event Verona in Love, an extensive program of romantic initiatives, from entertainment to food. Right between the Terrace of the Lovers, the courtyard and balcony of Juliet, shows will be held, for example, "What light opens the shadow from yonder window " by the Fondazione Teatro Atlantide Stabile di Verona. The original entry into scenes from Shakespeare's will relive the romance of Romeo and Juliet. The show takes place on Saturday 12 and Sunday 13 and Monday 14 at 15.30 to 18.30. Not only that: on Saturday, February 12 from 8:30 to 19:30 the House and the Tomb of Juliet, a symbol of the plight of two young lovers, will be open free to the public.
If Verona is therefore proposed to lovers around the world an unforgettable Valentine, Lovestone offers them an original limited edition object at discounted price.
For more information please contact:
Lovestone Shop
tel. +39 0458015196
fax. +390458031216
email: info@lovestone.it
website www.lovestone.it