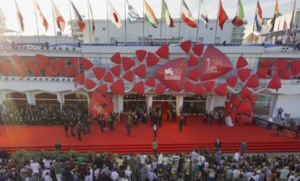 If you are looking to make the most of this summer then why not consider to a flight to Venice to see the famous Venice Film Festival in Lido!
At the end of August, the Serenissima becomes the mecca for the world of cinema hosting a whirlwind of events, VIP parties, red carpet and of course the most awaited international films of the year!
The Venice Film Festival in Venice – under the direction of Alberto Barbera recently – celebrates 80 years, was started way back in 1932 and initially it was held every two years, so the issue is only the 69th if you want to split hairs.
The dates this year are from the 29th August to the 8th of September 8, 2012
Where? The Lido di Venezia, the most famous of the Venetian islands, which is about a quarter of an hour by boat from Piazza San Marco. Films can also be seen in the centre of Venice in an open air cinema in the Piazza San Polo.
The life of the festival focuses inside and outside the Palazzo del Cinema, on the Promenade Marconi, where you enjoy day and night screenings of films in the competition.
Presiding over the jury is the great director Michael Mann, author of, among other films, "The Last of the Mohicans". Among other prominent members of the beautiful muse Laetitia Casta French and Italian director Matteo Garrone, fresh from the Grand Jury Prize at Cannes with the film "Reality".
Kasia Smutniak godmother this year, model and actress with a history of current girlfriend of producer Domenico Procacci.
Thirty world premieres including but not brand names famous Hollywood – Terrence Malick aside – but directors as Eastern Kitano, Kim Ki Duk and Abbas along with three Italians Stefano Mordini highly anticipated as presenting "Steel", an adaptation of the bestseller of Avallone, Bellocchio with the already discussed "Beautiful Ddormentata" and Daniele Cipri with 'E' was the child. "
Why not enjoy a break from watching movies and celebrities to visit the Peggy Guggenheim Foundation, a sunset stroll along the Riva degli Schiavoni, a coffee in Piazza San Marco, an exhibition at the Palazzo Ducale, a boat trip or gondola.