ROME – It 's bee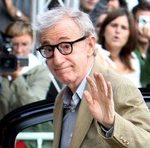 quarter of an hour waiting for a few sentences: Woody Allen has inadvertently turned the press conference set tonight in Rome before his concert in the Auditorium of the Conciliation into a gag of the films of his first period with a lot of exchange of suitcases from the clarinet. Allen is in Rome for a single date because he agreed to play for charity in favour of the Bambino Gesu 'Association, donating his cachet.
The great director and writer on tour in Europe with the New Orleans Jazz Band, with whom he played for more than 35 years every Monday 'in New York, more' precisely at the Hotel Carlyle, and with whom some time he goes on tour. Some malicious claims that with these concerts abroad he is funding the budgets of his films. Allen, who is staying in a hotel of the most famous in Rome and who accompanied by his wife and children, has confirmed that he will start to shoot his next film this summer in Rome, has once again chosen as the background of his film a big city of Europe after London's Match Point and Scoop, the Barcelona of Vicky Cristina, ​​Paris Midnight in Paris, a film that will open the next Cannes Film Festival and then shortly before the departure of the Roman times.
"It was so long that I wanted to shoot in this town and I'm very excited about it,"Allen said about the film that will be set in the capital. Actually it became clear that Allen had no intention of speaking to journalists: at first it was announced that the time available was 15 minutes.
But when he arrived, two suitcases with clarinet in hand, the blue crew neck sweater and khaki pants, he hinted that he had no time to answer the questions:"In a few minutes I have to play – he said, whether that he knew he had been expected for more than an hour – there' s a full house and I have to play."
The involuntary gag came about when Vincenzo Mollica, to which the organization of the Child Jesus' had delegated the task of conducting the meeting, was submitted to the representatives of the association, setting in motion a kind of balancing game with the two Box of clarinets that out of hand as he presented to his guests.
Source: http://www.ansa.it/web/notizie/rubriche/spettacolo/2011/03/26/visualizza_new.html_1530489971.html