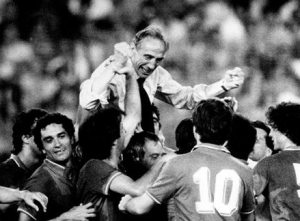 Enzo Bearzot, the man who led Italy into winning the Football World Cup in 1982 has died at the age of 83.
Bearzot made started as a professional football with Pro Gorizia in 1946, then he played for Inter Milan, Catania and Torino.
He ended his playing career in 1964 and he became assistant coach of Torino, working with Nereo Rocco and Giovan Battista Fabbri.
Soon after hestarted working for the Italian Football Federation, first as under-23 head coach, then as assistant coach of Ferruccio Valcareggi in the 1974 FIFA World Cup.
He was promoted as head coach of Italy in 1977. Bearzot drove the Italian national team to a good fourth place in the 1978 FIFA World Cup, obtained thanks to one of the most exciting playing styles in the competition. Bearzot repeated himself in the Euro 1980, hosted by Italy.
In the 1982 FIFA World Cup, after three poor draws in the three first matches, Bearzot announced the so-called silenzio stampa (press silence) in order to avoid the raising critics from the Italian press. And following this press silence the Italian team finally started to play some good football, defeating teams such as Argentina, Brazil in the second round, and winning the semi-final to Poland. Bearzot and the Italian team defeated Germany, to win the first World Cup since 1938.
Italy and Bearzot did not qualify for the Euro 1984. Bearzot resigned after the 1986 FIFA World Cup, when Italy was defeated in the round of 16 against France.
After a long period of inactivity, Bearzot was appointed President of the FIGC Technical Sector. In 2002. He left this office in 2005.
Bearzot died on 21 December 2010 in Milan, aged 83.