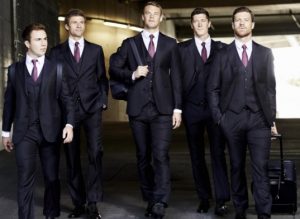 The famous Italian brand Giorgio Armani and Germany's Bayern Munich football team have recently showcased the complete the official clothing for the players and the staff. The new wardrobe from Giorgio Armani is of course "Made to Measure" and is composed of a wool-cashmere navy blue, with two-button jacket, vest and pants without pleats, worn with a white cotton shirt.
The look is made comple with a Red cashmere v-neck pullover, a red necktie, with the classic black lace-up shoes and a chocolate-coloured coat.
The accessories range from Armani has been expanded to include a dark Blue leather backpack. Both the football players and directors of Bayern Munich will wear uniforms made to measure by Giorgio Armani in all their official events of 2015-2016 season.
Italian fashion wins again!!!!