Venice has always been on my "must-see" travel list, with its endless romantic towers and basilicas reflected in those famous canals.
It's going to be tempting to explore Piazza San Marco as soon as I arrive, but the area gets very busy with all the attractions like the Doge's Palace and Campanile bell tower. I'm thinking a full day's exploration may be needed! The B&B where I'm staying was recommended to me by a friend and is quite near to the centre in Riviera del Brenta, so there'll be plenty of chances to pop out and acclimatise after I've got settled.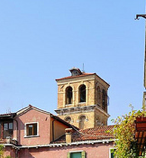 The quintessential Venice experience has got to be a gondola ride. I've heard that busier areas like the Grand Canal are actually best-avoided by boat, so I'm aiming for the backwaters around San Polo and the church of Santa Maria Nova.
My personal highlight will be the artworks. I'm making time for an afternoon at the Gallerie dell'Accademia, but there are many churches and "scuola" houses like Grande di San Rocco that are down on the list for their in-house collections, as well. It will be interesting to see how works by Titian, Tintoretto and Carpaccio look in the flesh, especially when compared to the grand masters I've seen elsewhere, like Leonardo and Raphael!
As far as the food goes, I've waited a while to taste fresh polenta as they make it in Venice, and I might even dare to try spider crab or one of the other Venetian seafood specialities, if I'm feeling adventurous. If not, I'll stick to the world-famous gelato or a glass of Veneto red; even the house wine is said to be superior in Venice!
I'm also hoping to make time for a few day trips out of the centre. The lagoon island of Murano has caught my eye; this is where the elite Murano glass-makers have worked for centuries. But really, a week probably isn't long enough to grasp the full delights of Venice itself, though I guess I'm just going to have to try!