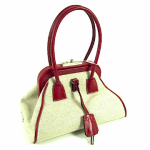 Elegance and glamor just a click away. In Turin, the first Vendome luxury bag boutique has been launched in Turin in northern Italy. Here you can buy luxury bags from  the most prestigious brands in the international arena of haute couture. The store is located in Via Andrea Doria 13, in the centre of Turin. You can see the exhibition and buy new luxury handbags carefully selected by experts of Vendome that certify the originality and quality of all the items on sale.
The aim of this new store is to give life to the dream and desire of many woman to have a unique accessories, stylish, authentic luxury bags at an affordable prices.
The results of this store speak for themselves, only a few weeks after opening the store in Turin,
23%
of all the luxury
bags
on sale were sold in less than 10 days. The store is visited by an average of
200 customers
per day, by women who appreciate the innovative ideas and caring experts of the Vendome designer assistants.